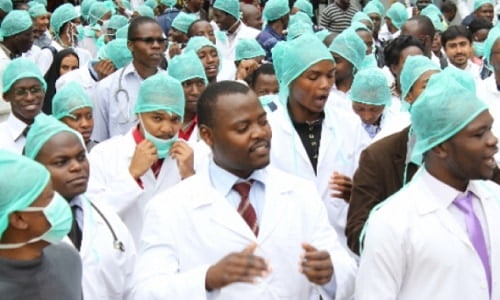 Nigerian Doctors React As FG Announces Date For Secondary Schools To Reopen
The Nigerian Doctors has sent stringent warning to the federal government over the decision to reopen schools.
Naija news recalls that the federal government on Monday said this year's West African Senior School Certificate Examination (WASSCE) will begin on August 17.
It asked schools to reopen for graduating pupils effective August 4 to enable them undergo two weeks revision.
But doctors said they feared for pupils' safety because of the unbating COVID-19 pandemic.
They said the government is not sufficiently prepared to ensure that pupils do not contract the virus.
President of the NMA Prof. Innocent Ujah, told The Nation that while the children should not be kept at home forever, it is also unwise to expose them to danger.
He said: "At the moment we have not been told what new thing they have done – either the government, the private schools or the proprietors, to ensure the safety of the students. It is only the living that goes to school.
"Nobody knows the course of COVID-19, but then we need to be prepared. We must be very cautious and we must temporise (avoid making a decision or committing oneself in order to gain time).
"If the students are going to school, how are we prepared to ensure that they are protected from COVID-19? We need to be told in clear terms.
"The same parents that have been crying that their children should resume school will be the same people to criticise the government – that the government has not put anything in place and their children are dying.